Blue Jays trade Teoscar Hernandez to Mariners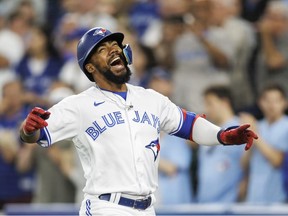 PHOTO BY COLE BURSTON

/

Getty Images



In his final appearance as a Blue Jay, an electrifying one in which he hit a pair of home runs before all but the Rogers Centre roof collapsed on his team, Teoscar Hernandez earned a standing ovation and curtain call.

Who knew it was going to be a farewell for the popular slugger, who in many ways was the heartbeat of the Jays offence?



That end came on Wednesday when general manager Ross Atkins triggered what almost certainly will be a busy off-season by dealing Hernandez to the Seattle Mariners for a pair of pitchers.
Coming to the Jays are right-handed reliever Erik Swanson – who will add some much-needed swing and miss to the bullpen – and intriguing left hander Adam Macko, one of the M's top prospects.
In both making the deal and talking about it afterwards, Atkins hinted at the reality that this is just the beginning.
"(Hernandez) has been a huge part of this transition of us going from an interesting team to a contending team," Atkins said on a Zoom call. "We will miss him. We got to the point where the acquisitions on the run prevention side would help us.
"(We will) continue to look for more pitching and a more versatile offence."
In other words, if you think the team is lesser today without Hernandez, you're right. But the work has just begun for a front office that sent a clear signal of its intentions.
Moving Hernandez now made sense financially, given that he's scheduled to be a free agent in 2024 and there was no indication of serious extension talks taking place between the parties.
A middle-of-the-order presence for the past three seasons, Hernandez's production will need to be replaced in the Jays lineup, ideally with a left-handed bat. And there's little doubt that will be the priority for the GM.
"We have a decent idea of where the opportunities are going to be via trade, via free agency, to make our team better," Atkins said.
Where that will take the team remains to be seen, but with three catchers there is some currency and trade and more freed up in cash, given the $14 million US or so Hernandez was slated to make in his final year of arbitration.
As it applies to Wednesday's deal specifically, there are implications both to the bullpen and the outfield.
First with the relievers, in Swanson they get a swing-and-miss type arm that was a depth strength for so many of the teams that had post-season success.
The 29-year-old Swanson appeared in 57 games for the Mariners in 2022, setting career bests with a 1.68 ERA and 0.91 WHIP while striking out 70.
On a team-friendly contract, he immediately slots in at the back end of a bullpen that with another high-impact arm could emerge as a bonafide strength for 2023.
Addressing the bullpen was a clear priority from the day the Jays were eliminated by Hernandez's new team and frankly, likely well before that fateful day.
"He's coming off a really remarkable year getting both sides of the plate out on a regular basis and a very high strikeout rate with a well above-average weapon in his split," Atkins said of Swanson, whose attraction was amplified by the fact that he's under team control for the next three seasons.
"He'll complement us well and can pitch really in any inning. The strikeouts are big. It's been talked about a lot, for some good reason. It's an opportunity for us to improve."
As for the outfield, it's apparent the work isn't done.
On Wednesday, the Jays parted ways with Raimel Tapia and Bradley Zimmer, designating both players for assignment, a precursor to the Hernandez swap. Though Atkins suggested the team can proceed with the bodies currently on the roster, that seems doubtful.
As well, the team would consider sliding George Springer over to right field if another centre fielder was acquired via trade or free agency.
"We're fortunate that George can play centre field and we're open to him being versatile for us as he has been in the past," Atkins said.
Given all the potential moving parts – and the financial implications – it's virtually impossible to grade this trade until the rest of the off-season work is complete.
There's no doubt that the exit of Hernandez will be felt in the clubhouse (where he was a popular and positive leader), in the seats (where he was a fan favourite) and in the lineup (where his bat was elite, banging out 57 home runs the previous two seasons.)
Don't discount any of those factors, the byproduct of what may have been Atkins' most savvy trade as GM when he acquired Hernandez from the Houston Astros in 2017 for Francisco Liriano.
But with Swanson, the run prevention element is better, especially given the versatility he brings in taking down both left- and right-handed hitters.
And most importantly, is what comes next. Atkins didn't trade away an elite player without plans to complete a much more complex blueprint.
At minimum, the deal was a signal both to what awaits and a recognition from the front office that the 2022 version wasn't quite good enough to reach the heights of baseball's elite.