Home-grown fitness chain Movati suddenly shuts its London gyms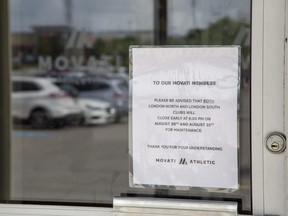 Movati Atheltic on Wonderland Road South in London, Ont. on Tuesday August 30, 2022. Both London locations are closing. (Derek Ruttan/The London Free Press)
A fitness chain with its roots in Windsor has announced the sudden closure of its two London locations.
"We're sorry to share the news that Movati is closing its two London locations, effective 6 p.m., Aug 31, 2022," a notice on the websites for the Movati Athletic's north- and south-end London gyms reads. "This was a difficult decision, based on unique circumstances that were isolated to London.
"None of our other clubs in Canada are affected."
The two London clubs were strained by the pandemic shutdowns, and with the repercussions of those shutdowns "bearing down on Movati, the economics of the London real estate market were no longer sustainable," the statement also notes.
Members will get refunds for gym time and personal trainer sessions that have already been paid for, but cannot be used after Aug. 31, per the statement. Staff found out about the closings at 10 a.m. Tuesday, with little explanation offered, one employee told Postmedia News.