Licensed Product Sales Still Challenged Post Pandemic
According to the 2022 Study of Sports Fan Behavior compiled by SBRnet*, licensed apparel sales are down coming out of the pandemic for four of the seven major team sports. The study surveyed 6,500 sports fans ages 13 years and older. Licensed product sales make up one of the 58 categories of data covered.
The NFL grew its licensed apparel sales by close to four percent due partly to an aggressive approach to getting fans back in their seats (see chart below).
Sales of NBA apparel jumped about one percent, while sales of NHL and MLS gear dipped slightly. College basketball licensed apparel took the biggest hit in the past year, and sales of licensed apparel for college basketball declined by 16 percent. College hoops suffered from losing the "March Madness" tournament in 2020 and have not recovered largely from a sluggish return to campus for many colleges and universities.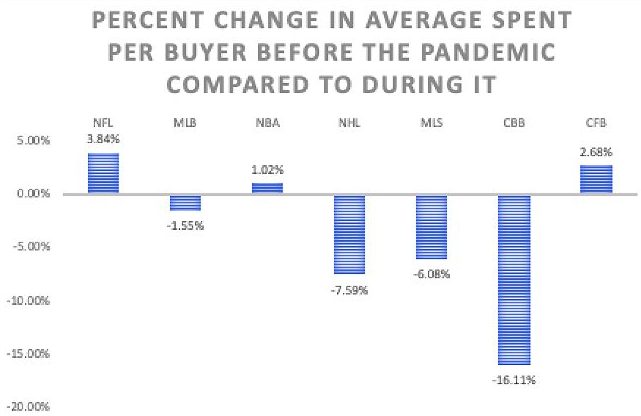 According to Neil Schwartz, president and chief data officer, SBRnet, "It looks like licensed product sales are a bit slow to get back to where they were before the pandemic. There has been a dramatic change in that category as Fanatics has become the dominant player in that field. These changes point to a decline in higher priced licensed replica and game jersey styles and an increase in lower-priced tee shirts, hats and sweatshirts."
Data indicates the ongoing shift to online sales of licensed apparel is taking hold faster at the expense of apparel bought at live games, illustrated in the chart below, showing all seven team sports significantly increased online licensed product sales following the pandemic versus before.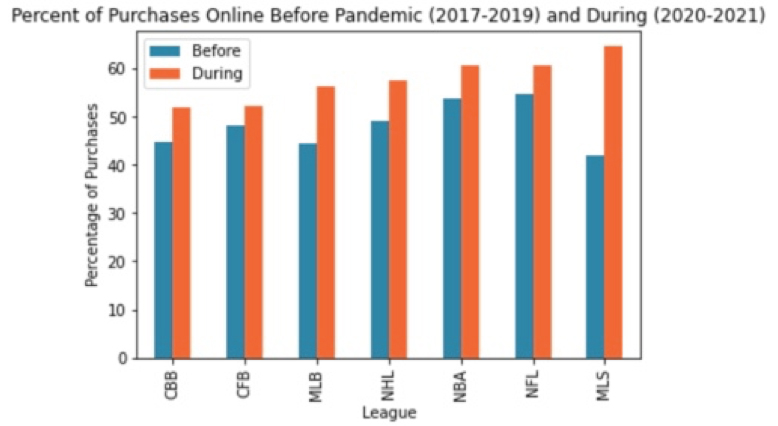 Online sales of MLS apparel jumped to 65 percent from 40 percent; Online sales of NFL, NBA, NHL, and MLB apparel had similar spikes. "These numbers make perfect sense," Schwartz said. "Fans were not attending games, and in the early days of the pandemic, they were not shopping brick-and-mortar. Fanatics has upped its game in service and marketing, and the numbers bear that out."
---
*SBRnet is the exclusive provider of a sports market analytics data platform used by leading colleges, universities, agencies, teams, and leagues to better understand sports fans and related categories.
Photo courtesy Getty